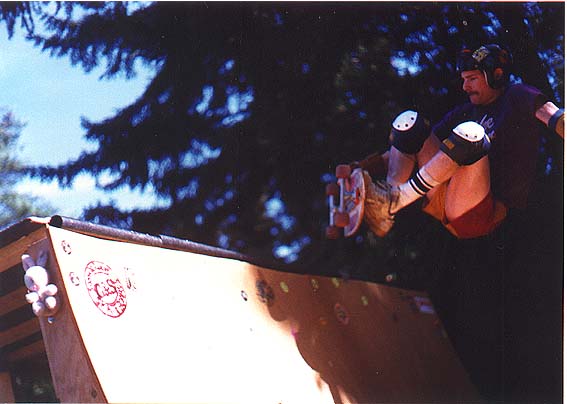 So, it was 1987. I look really goofy with all my old stuff, and hair under my nose.
| | |
| --- | --- |
| (Click photo for larger image). | (Click photo for larger image). |




I tore down my Ramp in '84, Charlene and I were living in Brier, WA in '87 (Northern Seattle area). Charlene worked with this lady who had a son, who had a half-pipe in his back yard. Charlene told this lady that I was a *really* good skater, that I used to have a ramp...bla bla bla. So, this lady invites us over some saturday.

So, we all go over there. Jeremy was about 1.5 years old. We all walk up to the house, the mom leads us to the back yard, and interups the session going on at this ramp. She introduces me as a really good skater (Ha! I'm thinking). I start to get my pads on, and I tell everyone it's been at least 6 years since I've skated anything. I was busy with family and college and work, etc.. Who had time to skate? Anyway, I'm standing at the bottom, waiting for these kids to let me ride. They are all about 12-14 years old. And finally they do, I start at the bottom (just like I used to) and started doing fakies to get some speed. At this very moment, I notice that all these kids (about 10 of them) start walking to the house to get a drink (I heard, "boy I'm thirsty"). As they started walking away I started grinding each side. I was still trying to get warmed up. They were all impressed. Wow, I can grind. I guess not many of them could. Anyway, they all came back and watched me skate. When I was done with my first run, they peppered me with questions, "can you do a judo air? How about a madonna?" Huh? I said. I had no idea what those were. I had been so out of the skate scene, it wasn't even funny. But, I did a couple of frontside airs, and even had Charlene take this picture (which I didn't even remember there was a picture). But that was about it. I didn't skate again until 2001. I felt like I proved that I could still skate if I wanted to.