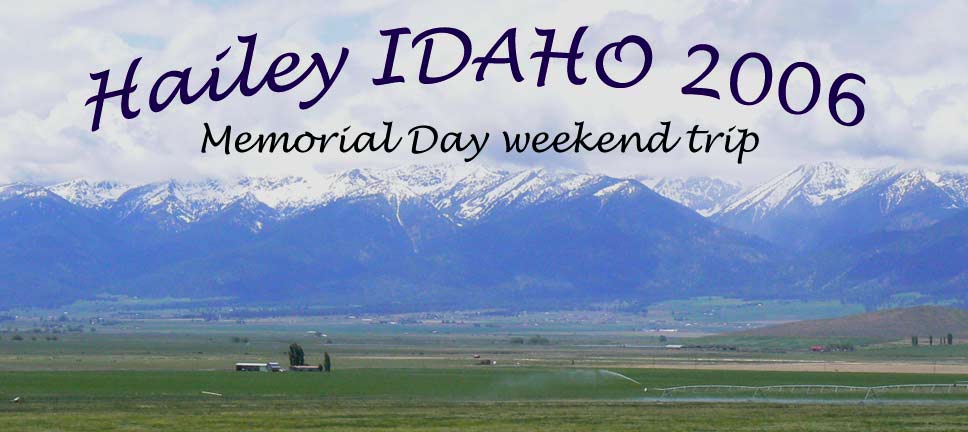 Day 1: Friday May 26th
We all met at my place in Renton. I had planned for as many as 14 to come on this trip, but in the end, only 6 including me, were in the Persuader.
First thing driving out of Renton, we hit rush hour traffic. Top speed 7 miles an hour. Starting out slow, I'd say.
As we started up I-90, we could hear a squeal sound coming from the motor. This was an old noise. I heard it coming back from Hailey last time. I figured it wouldn't cause any trouble. I was wrong.

About 10 miles from the top of Snoqualmie pass, my power steering stopped working. I figured my power steering belt fell off. I looked at Steve, who was sitting shotgun, and told him that I had no power steering. He said, "you can still steer right?" Well, of course, it's just a little weird. After a few moments of driving with now power steering, I looked down and notice my temp gauge rising and rising fast. So, I knew that there's no point in running a motor when it's hot, it just gets ruined fast. I pulled over right there, on the side of the freeway, just before we hit the pass.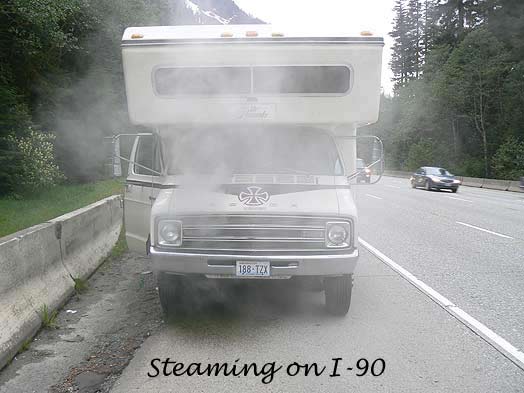 Well, life is a learning experience. I learned that the power steering belt on a Dodge 440 (1977) uses the same belt as the water pump. Now the motor can run without power steering, but it can't run without a water pump. We all jumped out to investigate.

We found that the belt had broken, and we were dead on the road, only 45 minutes into our trip. I signed up for AAA before we left, and was on the phone with them, only to get put on hold. I hung up and called my wife. I realized that AAA wouldn't take me to a parts store (all I needed was a belt). My wife came to the rescue. She went to Shucks, and got a belt and drove all the way up the I-90 to deliver it to us. She asked me where I was. I told her, and she ended up stopping behind a different motor home, only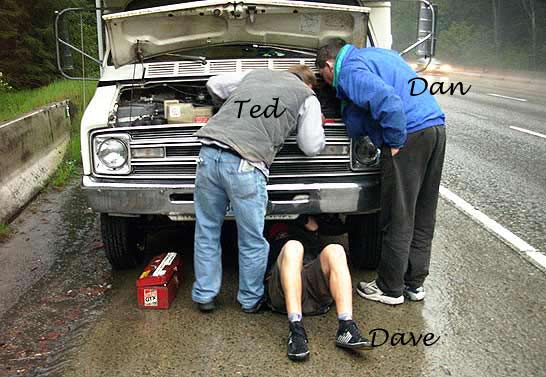 to discover it wasn't me. She walked up to some other motor home and said to a stranger, "You're not Dan." And got back in her car. She arrived, and our spirits were back in the clouds. We had a belt, and were back on the road. Everyone said, "Dan, Your wife ROCKS!" (That's skateboarder speak that means she's the "Best in the world.")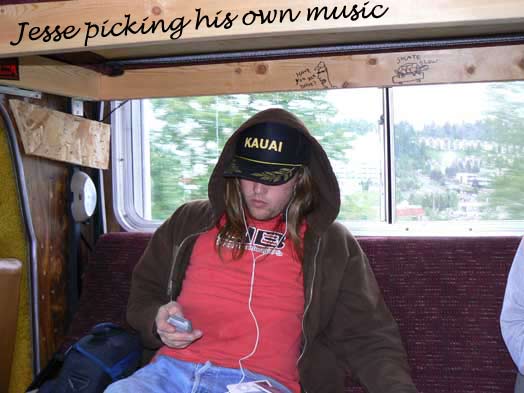 Back on the road, we blazed a trail to Prosser. We had intended to stop here and skate for a couple hours. Prosser is a small town on the way with a new Grindline park. It's actually a really fun bowl. We would have to stop on the way back though. The lights stay on until 11pm. However, we were late, and the lights were off. Jesse decides to skate with his flashlight, that is on his phone. He not only skates, but he does a very difficult bomb drop off the quarter pipe, into the bowl, in the dark (oh sorry, with a flashlight... "Here hold this and shine it here..." where his exact words).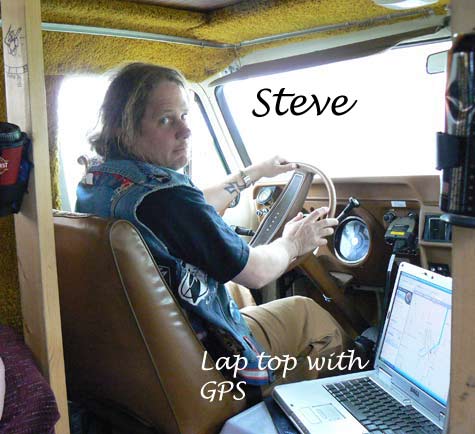 Back on the road. I had planned to drive over night, and make it to Buhl in the morning. Everything was going fine, however that annoying squeal showed up again. We thought it might be the air conditioner compressor or something. A lot of water was sprayed around at the first stop. But, it wasn't. It was the power steering belt, again. We stopped to tighten it. It lasted until we got just into Oregon, in Hermiston to be exact. When the belt broke, and the power steering stopped working.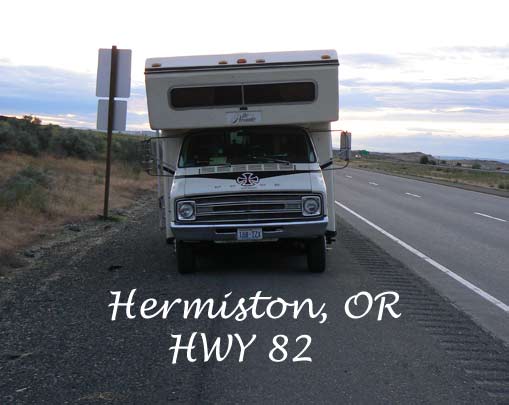 Day 2: Saturday May 27th
It was 1:30 in the morning, and I called Glen who lives in Richland. He was planning on coming up to Hailey on Saturday morning. He was working a graveyard shift when I called him. He said that he would pick up a belt when he got off. We slept on the Hwy 82 that night. I slept like a rock. I understand that no less that 200 hundred Harley Davidson's vroomed by at about 3AM. I guess it was quite impressive and noisy. I wouldn't know.

Glen came to our rescue, and we were on the road with a spare belt this time, and he even hooked us up with coffee. We were on our way to Buhl by 10AM. And we decided to stop check out Kuna. The rain was threatening, and when we arrived in Kuna, it started to rain a little. Not enough to stop Jesse and Zach from taking a couple runs around Kuna.


Getting to Buhl was a debate, give the distance and rain, and time lost. We knew that Glen and others were heading up to Hailey already. But, we had Buhl on our mind.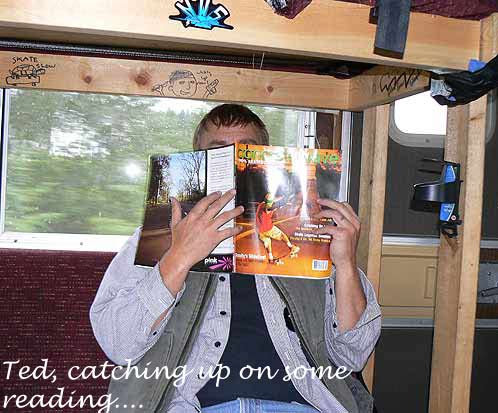 So, we called 411 and asked for Buhl, a gas station or anything. We hooked up with a 76 station and had one question. "Does it look like rain?" They said that it was dry and not looking too bad. So, we headed for Buhl.
We arrived in Buhl and skated like men on a mission. We could see the clouds swirling by us, and felt the moist air. Buhl currently holds claim to the largest cradle in the world. At 18 feet it's large. Jesse said it's not like a cradle really, you just ride it like any other corner. I'll have to take his word for that one. He rides it like it's nothing....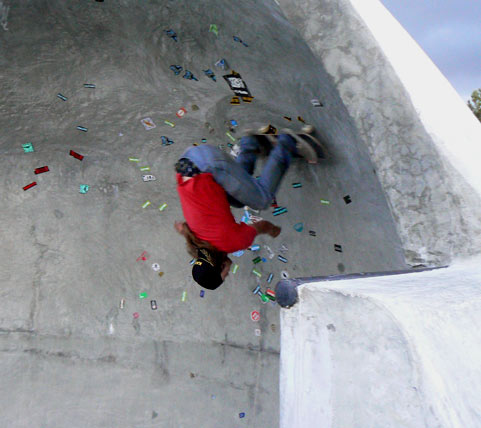 | | |
| --- | --- |
| Steve high in the cradle. | Dan frontside air. |
Page 2 of Hailey Trip, '06