Update - The skatepark was demolished January 3, 2007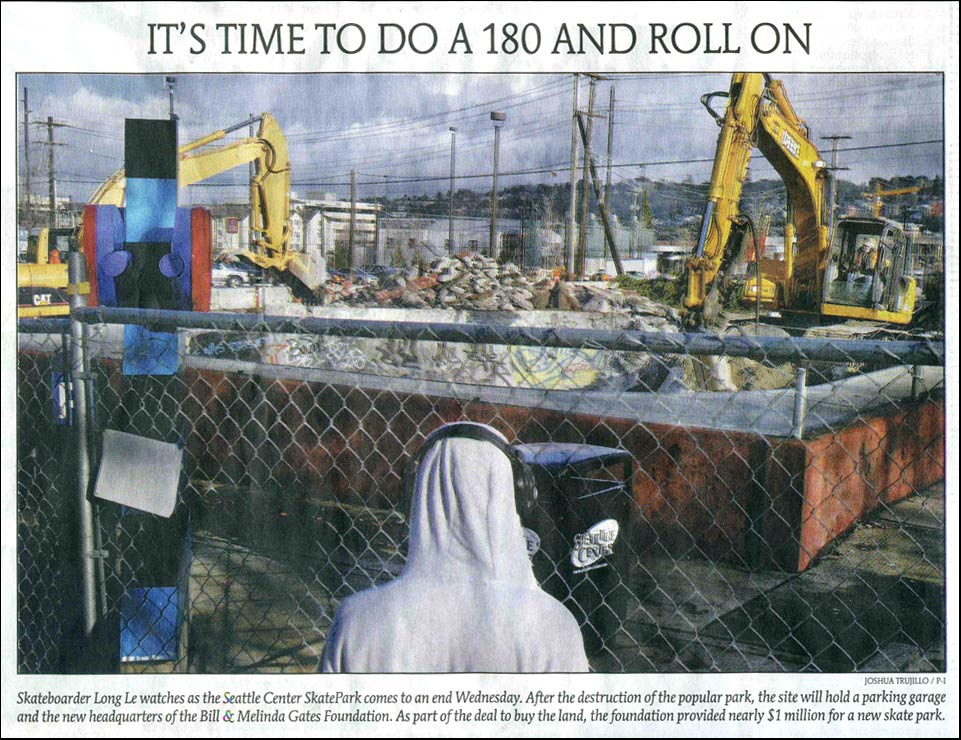 Location: Corner of Republican Street and 5th Avenue North, on the west side of the 5th Avenue Parking Lot
Opened: June, 2000 - Closed January 3, 2007
Constructed by: Merlino Construction
Designer: Eric Dawkins, Great American Skateboard Park, Medford, Oregon
Dimensions: 81 feet by 109 feet for a total square footage of 8,910.
SkatePark History: In 1993, Seattle Center first built a Skateboard Park in the 5th Avenue
Parking Lot. The park was a series of wood and steel ramps installed on the parking lot surface.
From 1993 to 1999, an estimated 96,000 people used the park, which operated from April to
October each year. In 1998, the Seattle Center SkatePark project embarked on a plan to remodel
and update the existing park and turn it into a permanent, year-round facility with the support and
involvement of the skateboard community. Dozens of community meetings and input from local
skateboarders helped make this project a success.



| | |
| --- | --- |
| I was asked to do a demo on my 42nd birthday. It was for a University of Washington ESL (English as a second language) class. They were interested to learn more about the culture, and skateboarding somehow fit the criteria of something interesting about our culture. After skating a while, some of them wanted to test out my board... This was their instructor, I think her name was Lisa. | I think this gal snowboarded before, she picked it up pretty quick. |
| | |
| --- | --- |
| | She made the comment that my board turns more than her brothers... |
| | |
| --- | --- |
| | There were about a dozen students all from different parts of Asia. It was fun interacting with the students, I hope they had fun too. |