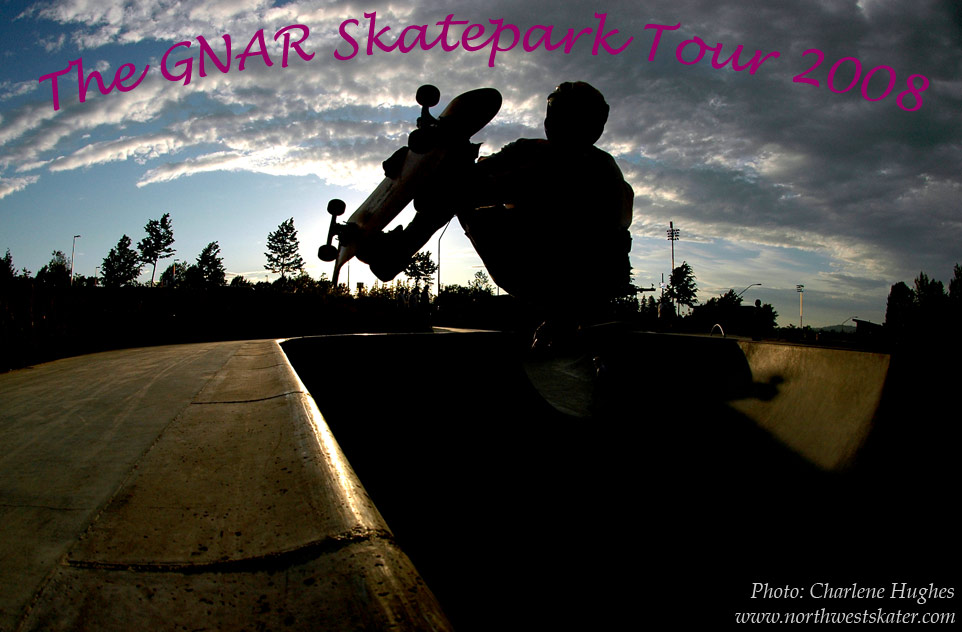 Today was "Go Skateboarding Day" (GSD) which falls on the longest day of the year, June 21st, which also marks the beginning of summer. So, we wondered how many quality parks we could hit in one day?
We have been planning this particular trip since last November. I think Dean named it the, "Great Northwest Asshats Rodeo (GNAR)" (Whatever that is...) I just thought of it as one gnarly, grueling trip!
The plan...
We'd start in Bellingham and end in Port Angeles. We talked about it and planned, and thought it was well thought out and well planned. That is until it was pointed out the day before we were to go, that the Keystone Ferry required a reservation, even though it's a part of the Washington State ferry system, and the times we needed were already booked.
Can you say major monkey wrench?
So, the night before leaving we had to re-work the whole route to avoid ferries, consider the solstice parade traffic in Seattle, the opening and closing times of skateparks in various spots, especially those with gates, and the limitation of daylight hours along with considering the travel times between the parks.
Some mentioned it might rain, but my plate was full already I had enough to think about!

The new route had us starting in Bainbridge Island, and ending in Bellingham. And even that would eventually change too.
Now, it has to be mentioned that we didn't want to just skate as many parks as possible. One of the notable things about the Northwest are the large number of quality parks we have around here, so our goal was to skate all of those that we could. We've all skated crappy parks and they usually aren't worth traveling to. So, we set out to hit 16 quality parks in 16 hours.

How many Quality skateparks can you skate on the longest day of the year?
Here was our Plan:
1. Bainbridge Island
2. Port Townsend
3. Port Angeles (opens at 8am)
4. Milton
5. Sumner
6. Kent 3
7. Renton
8. Marginal Way
9. Ballard
10. Lower Woodland
11. Mukilteo (closes at 6pm)
12. Crossroads
13. Carnation
14. Duvall
15. Arlington
16. Bellingham


Saturday, June 21, 2008

3:20am - We left Renton
Three cars were to meet at Bainbridge at 5:15 AM - and all were Hondas so...


The Civic Crew (Dean, Doug, and David) left from the Sumner area.

The Element Crew (Mike, Erik and Andy) from Bainbridge and I heard that Mike and Erik caught a late bus, and ollied (That's skateboarder speak for "jump") the water gap to barely catch the ferry to Bainbridge to stay at Andy's place.

The Accord Crew, my wife and I, and with 4 hours of sleep, we headed for Bainbridge.
We all met at the park pretty much as planned. Skated, and had fun, enjoyed the morning, the pool coping, and the organic nature that is Bainbridge. We were worried that the front gate would be closed, but we had a backup plan if it was. We rolled up and it was opened. So, we drove right in. I think that everyone had their own goals for the day and for each park. Anything from grinds to airs were going on. I had a goal of doing a frontside air at each park. My wife was gracious enough to play skate photographer, allowing us to get a maximum amount of skating in at each spot.





We had to press on to Port Townsend. Andy said, "follow me, I know a quick way..." So, we did. Evidently with all the construction, the main road was slower.


Saturday, June 21, 2008

7:05am - Port Townsend Skatepark
| | |
| --- | --- |
| The hardest part of this trip wasn't the driving, but leaving a great skatepark when you don't feel like you're done yet. We arrived at Port Townsend, and skated a Dreamland Gem. We could have stayed here all day. But, after a few grinds and airs and we had to press on. | |
My buddy Jeff said, "I plan to head up the Lazy, Embarrassingly Slow, Second String Great Northwest Asshats Rodeo (LESSSGNAR). We will depart at a civilized hour and plan on multiple intersections with the core GNAR contingent throughout the day, perhaps allowing for dining and restroom breaks." He continued by saying, "I think you should use a highly coordinated drop in/pop out sequence with a secured perimeter. It would be cool if you all yelled "hup, hup, hup..." as you charged the park from your cars."


| | | |
| --- | --- | --- |
| | So, this was a running joke for us, we'd laugh and occasionally yell, "Hup, hup, hup..." We had a lot of fun with it, even though it was a long day it was an amazingly fun filled one. | |

So, on to one of our favorite parks, Port Angeles. Since PA, as we affectionately call it, is so good and so far away. We were looking forward to skating there. Add to that, I think I've been rained out at PA, three times.

Saturday, June 21, 2008

8:30am - Port Angeles Skatepark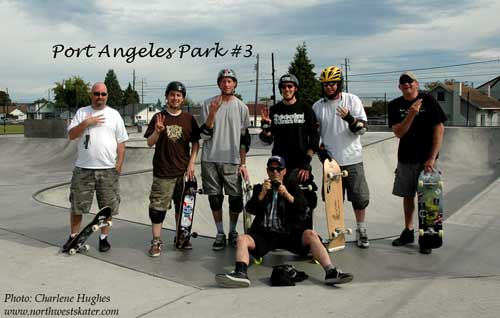 PA didn't disappoint. It's as smooth or smoother than I remember. As we rolled up, I noticed a guy sweeping the bowls out. WHAT? That never happens. Usually we are the ones doing the sweeping. His name was Mark, and he worked for the City, and was preparing for a skate class that he teaches out there through the city. Once he was done sweeping, we skated hard and fast. However, we decided to hang here for over an hour. Originally, we were to stay only about 20 minutes at each spot. But, since this park is that good, and since we rarely get out there, we decided to stay just a tad bit longer (total one hour and 15 minutes!).

| | | |
| --- | --- | --- |
| | Charlene had time to check out the local dollar store, while we skated. We had timed it just right. The park opens at 8am, and we arrived just after that. It wasn't easy. In one of our previous route ideas, we would have ended in PA, which could have meant that we'd miss skating here completely if we were running late, which sometimes seems to happen. So, with the plan to start out here, we made sure we got some good quality skating out here, and I think we were glad we did. So with fresh legs we skated it up! | |
All too quickly, we had to say goodbye to PA. We didn't want to leave. We wanted to continue to bask in the smooth concrete, the perfect wave that never dies.


| | |
| --- | --- |
| Our next stop was Milton, our forth park two hours away. | |
Saturday, June 21, 2008

12:00pm - Milton Skatepark
| | |
| --- | --- |
| Before leaving PA my wife and I went through the drive through for some food. I figured, it's better to be driving on a full stomach for 2 hours and digest food during that time, rather than eating later and trying to skate on a full stomach. I had 2 tacos. | |
We arrived a little later than the others for some reason. I don't recall what happened, but we made the best of it. And being that this was only our 4th park, and we had a long way to go, we started to feel a little pressured to step up the pace.


Now, what was nice, is that not once did we have to wait for rain or snow or clean out any bowls. We just skated pretty much right out of the car. It also meant that we didn't really have a chance to warm up, it was get out and skate and go...

Milton was a fun stop, lots of pool coping, and some locals there cheering us on!

So, being under the gun, we skated quickly and headed out just about 20 minutes later.
Next stop. Sumner.


Saturday, June 21, 2008

12:45pm - Sumner Skatepark
| | |
| --- | --- |
| I tried to go a quicker route using my fancy GPS, but I didn't tell anyone that I got re-routed to a longer and slower way around (sometimes it's best to just go the way you know), almost to Fife and then to Sumner. Turned out that we made it there about the same time as everyone else. | |
Sumner was one of the first parks that Grindline built, and it had a little remodel just recently, and they also added an anti-bike fence. The deep end isn't quite deep enough for me to be comfortable doing airs, but I did a couple anyway, it does have nice pool coping all around. We skated quickly once again, and headed to our next destination, the newest Kent park, what we call Kent #3.



Saturday, June 21, 2008

1:25pm - Kent #3 Skatepark


| | |
| --- | --- |
| We rolled into Kent and this being our 6th park, we weren't even halfway yet. Tired and hungry, we skated anyway. But, being that this is a pretty good skatepark, with a nice right hand kidney pool and 18-foot full pipe, it's hard not to have fun. Jim showed up and skated with us. | |
There was some discussion about making it to Mukilteo before closing time (6pm). And there was more discussion about changing our route. We had originally planned on Renton being the 7th stop, but after much discussion and weighing our options we opted to go to Kent #2 instead.





Saturday, June 21, 2008

2:15pm - Kent #2 Skatepark


| | |
| --- | --- |
| Kent #2 isn't quite the "quality" park that this tour was about. However, we wanted to add a 16th park to match the 16 hours of daylight. We chose this park because it used to be "the spot" where we would all meet. Jim tagged along and skated with us here as well. | |
It is a clover bowl that is really easy to ride, and fairly well built compared to other parks of that era. Most of us hadn't been here in quite a while, so we opted to go here instead of Renton. It did remind us of how far we've come in quality skateparks for this area. And it was a great nostalgic feeling for us as well. We pressed on to Marginal Way, or first Seattle park.



Saturday, June 21, 2008

3:05pm - Marginal Way Skatepark


| | |
| --- | --- |
| Marginal way is a permission DIY (Do it yourself) skatepark located under Highway 99. It's still under construction, and is an on going project. We arrived and some of us rode, and some of us didn't. I tried to get a good frontside air on the newest big wall. | |
But, I had a lot of trouble getting speed for it. I noticed that the Civic crew took off without saying anything, so we hoped we would see them at our next stop.


We skated for 20 minutes or so, and pressed on. A couple things were still nagging at us. We were just now halfway through all the parks we wanted to hit, and we didn't know how the Seattle traffic would be. Now, a funny thing occurred. Funny for you, but it was frustrating for me.

As we were leaving I intended to get on Highway 99 to head to Ballard. However, this train kept blocking my way. What I mean is the train kept moving forward and backward a couple of car lengths but continued to block two access ways out toward the highway. I just couldn't get over there. So I decided to just head north on Alaskan way and go over the Ballard bridge. So we went through on the surface streets, and it was slow, as expected. Then as we approached the Ballard Bridge. It rose up to let the tall boats pass!
Story continues on page 2
- Dan Hughes



Back to main page