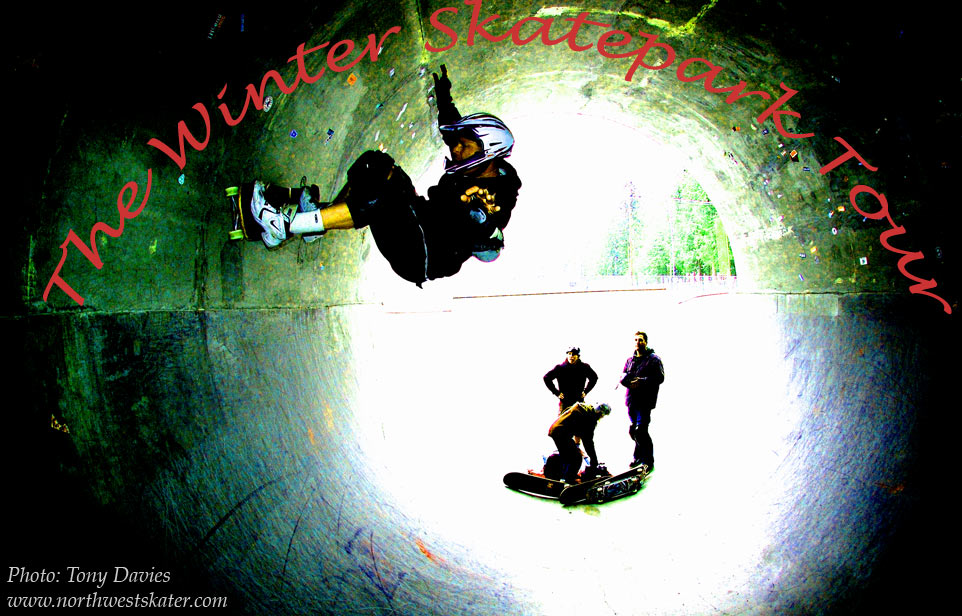 Mark Conahan had this crazy idea (I'm blaming him, even though I liked the idea too, ha ha ha!). To skate 13 parks in one day. Just go out and skate and skate and skate until the day is done. He didn't do quite that many, but it inspired me to give it a try as well (I think he ended up just skating 9 though).
Now just a couple of years ago this wouldn't have been possible. But, due to the recent construction of many skateparks in our area, skating this many parks in one day is possible.

How many skateparks can you skate in one winter day?
Here was our plan:
1)Bellingham
2)Arlington
3)Duvall
4)Carnation
5)Milton
6)Kent 3
7)Ballard
8)Bellevue (Crossroads)


Sunday December 9th 2007

| | |
| --- | --- |
| We were to start early in Bellingham. But, we didn't start early enough. We only got a couple runs in before the snow set in. | Snow... |
When it started to snow, we didn't stop skating, as we still had grip on our wheels. But, we were well aware that the grip could leave us at anytime. And so, Tony was the one to slip out riding up the wall. And with that, we decided it was time to move on.

After getting snowed out of Bellingham we decided that the full pipe in Arlington would be ridable, at least... So we headed that direction. This way the day wouldn't be a total loss. Full pipe Session was ON!




| | |
| --- | --- |
| The snow actually came in pretty fast, and it was already cold, so that made for very slippery conditions. On our way down the freeway we saw 3 cars spun out in the ditch. Later John who was trailing us by a few minutes said he counted 5 cars in the ditch. | |

We ended up driving pretty slow just to avoid being one of those in the ditch. But, we arrived in Arlington just fine. And sure enough, the pipe was dry!



At various points in our trip we would stop and look at each other and just laugh. Are we nuts?! Here we are trying to skate as many parks as we possibly can in one day and it's snowing? Huh?
Maybe we should be out snowboarding instead? But, we'd just shrug it off and keep skating. Because we knew we weren't nuts, we're normal!




The pipe session was ON! Thanks to some strategically placed towels at the entrance of the pipe, we stayed dry the whole time.
Skating the full pipe is a work out. And that's fine, because that's half the reason I skate anyway is to get out and exersize. There were six of us crazy...oh, I mean normal folks out there on skateboards in the nice snowy weather inside the warm full pipe!
After about 2 hours of skating the full pipe, the clouds looked like they were lightening up. And you know, when you live in this area you get excited when you see lighter clouds verses darker clouds. That means it might stop raining soon. It's all apart of the psychotic nature of being apart of the optimist club. We look at clouds with hopes of clearing soon.

We decided to wrap up the full pipe session and head out for lunch (as a side note, just getting out of a bowl filled with snow is a difficult task, or fun experience depending on your perspective!)

Well half of our crew called it a day, and the other more hearty (read "nuts!") decided to go have some lunch and hope that the clouds would break up enough to allow us to continue on our Skatepark Winter Tour 2007!

We all skated hard and had a good session despite the snow trying to disrupt our plans.

We ate lunch at a local Arlington Taco place, and waited out the snow...

As we ate, we noticed it was stopping, and we looked on Tony's hand held device and noticed that Duvall might be dry, well... drier at least. So we headed that way after lunch.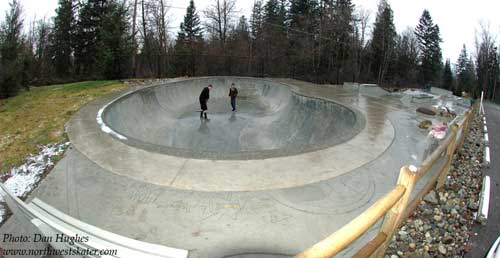 For those keeping track, this was to be our third park and it was already 1:30pm. Not too good for a day long skatepark extravaganza! And on top of that, it took us close to an hour to dry out the Duvall bowl before we could ride, it wasn't just wet, but also cold. Notice the snow sitting around the bowl. Which was sort of comical.

I didn't really plan to dry any parks because I figured that would take too much time. So, all I brought with me were a few towels and a personal propane heater that I use to keep my hands warm. So, believe it or not, we dried the whole bowl, and most of the work was done with that little heater.

We were glad the rain/snow had stopped, and we got to skate even though it was partly wet. It was also nice that Steve showed up to help us grind some coping.
Duvall is a fun bowl, and even though we were struggling to keep our feet dry we were glad we were out there skating.


It was 3:45pm and we decided to head for Kent. We had three parks under our belt and instead of calling it quits, we had a wave of optimism come over us and decided that we could make to Kent just before it get's dark to at least ride there a bit.

When we arrived at Kent it was already dark. So, we didn't stay too long. The nice thing is that it was dry, so that was a nice change.

| | |
| --- | --- |
| | |




At about 5pm we headed north to Crossroads. We figured we'd end out tour there, since they have lights. We were pretty tired and exhausted. But, we're skaters. And as we were traveling north, someone suggested that we stop in Renton. So we did.

Renton of course, has no lights (yet), and it really is dangerous to skate a park with no lights, so kids don't try this at home (only professional stunt men were used in these photos).

We rolled around Renton for a bit, and noticed that the lights were ablaring on the empty Basketball court (and Tennis court too for that matter).

Isn't it amazing? Lights are on for an empty Basketball and for the empty Tennis court, yet no lights for the skatepark where skaters are skating in the dark. And it's only 5pm!

So, we rolled over to the Basketball court and practiced some of our street tricks.




So, with 5 parks under out belts on this cold winter day/night, we headed up to Crossroads to finish off our tour. It's 6pm and we weren't in a hurry anymore.

We skated Crossroads just before it started to rain again and we felt lucky to get 6 outdoor parks under our belt on this cold winter day. So, as for the experiment that Mark set forth, how many parks can you skate in one day? Well, six, at least on this winter day.

Thanks for all who came out, I was stoked skating this many parks in one day which was a lot like sitting down and reading a whole book in one sitting. But, as Tony said, "Hey, wait until Summer!"



- Dan Hughes



Back to main page