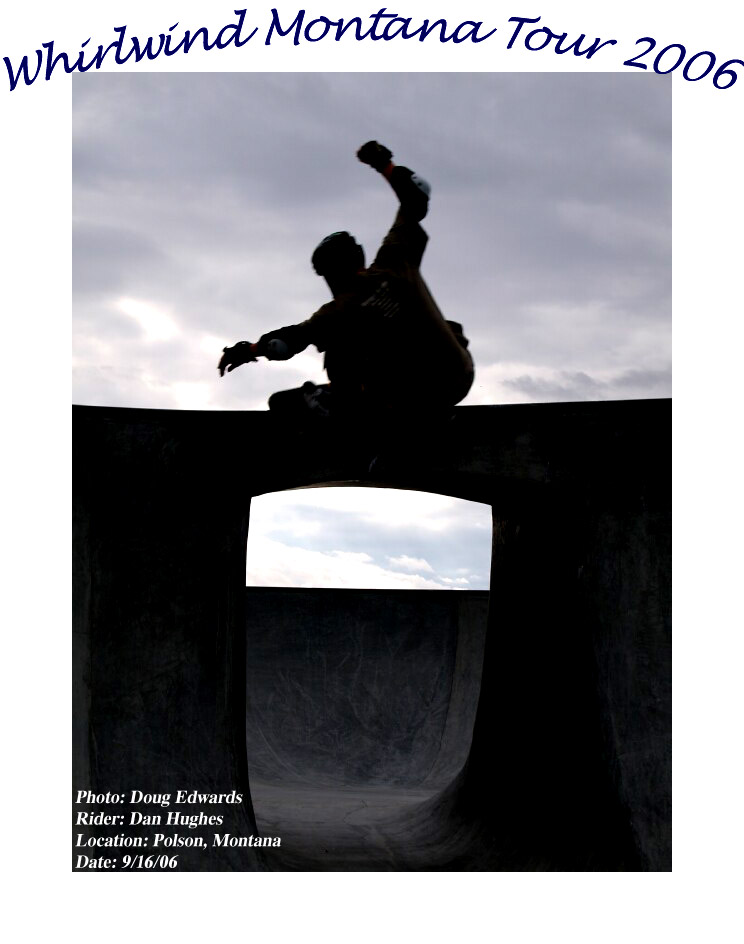 The plan: Skate Montana
Many skateparks have been built there in the last couple years, and I've been dying to get out there and skate them. Doug, who works for Alaska Airlines, offered to fly some of us out there. There would be 4 of us on this trip. Doug graciously offered his coupons, meaning we'd be flying standby, at a much discounted rate.

Days before we were to leave, the weather turned rainy and cold. Two of our crew got cold feet and bailed on us. From my analysis, it looked like it might work, some rain, but not total down pours. We were going to the Rockies after all, where if you don't like the weather, just wait a while, it will change. And hello, I live in the Rainy Northwest USA, I'm fully capable of squeegeeing off a skatepark (or 3).

Doug and I decided to change our plans. We'd fly to Colorado instead of Montana. No biggie, lots of cool stuff to skate there too.
Day 1: Friday Sept. 15
I met Doug at SeaTac, and we talked about Colorado and we had come to the same conclusion (separately), the Colorado parks weren't as close together and as easy to get to (as the ones in Montana). So after some discussion, Doug asked me, where did I really want to go? Well, I really wanted to go to Montana, I had to say. So, Doug changed our ticket, and we were off to Montana (One of the perks of working for Alaska Air lines).

But, flying "standby" means that you're last. Everyone gets on before you, and if someone has purchased a ticket, and you're only flying standby, you get bumped off, even if you're already on the plane (I know, boring details). But, flying standby also means that changing the ticket isn't that big a deal. Doug checked something called "flight loads" before making the changes.

We landed in Great Falls at about 3PM or something. It wasn't raining, which we were stoked about. But, some portions of the park were wet, like it had rained.

The Great Falls Skatepark is large (25,000 sq ft). The "deep" bowl (9 feet?) was fun, it had pool coping, and was an oblong shape. With an over-vert pocket at the highest point, and a deathbox feature. It also has a "ditch" area, which was fun, I hadn't skate something like that in quite a while. Over all, the skatepark has nearly every level and type of skateboarder covered. From beginner to advanced.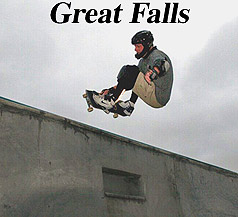 Doing an air over the deathbox was weird. It took me a couple tries to get over the psyche-out factor. Hang or no hang, that is the question. Fun park.

Our next stop was Butte. Butte is known for its strip mines (as some might know). These huge trucks used to fascinate me as a child. So, it peaked my interest to find that the skatepark is near one of the strip mines. The Butte skatepark is a Dreamland creation about 6,000 sq ft. Doug had fun in the right hand kidney bowl, while I was exploring the "L" shaped bowl. All I can say is I had a blast. The bowl is deep, I'd guess almost 12 feet deep. It had water in the bottom (drain was plugged), and I didn't have time to clear the drain. So, at first I was just riding around it, then once I figured out that the water wasn't going to bother me too much, I opened up the accelerator and let it fly.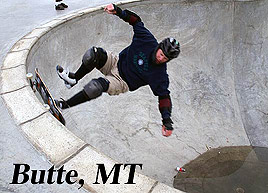 I had so much fun, I'll be back for sure. Full speed grinds and with each wall sending me to the next. I had to sit down periodically just to catch my breath, well also this sea level dweller wasn't accustomed to the 5,280 foot elevation either.

Doug and I had fun playing in the flow/street area. We skated until it was dark, the park was fairly new, as the parking area wasn't finished yet, no rules sign. One parent I talked with was stoked with the park. She said finally the kids in town have a place to go.

We located a cheap hotel, and some food at Taco Bell, and called it a night.

Day 2: Saturday Sept. 16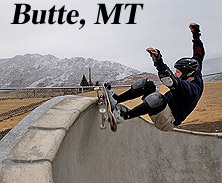 Back to the Butte skatepark in the morning. Snow was in the forecast for the afternoon. But small snow flakes started to fall early. It was pretty chilly. We rode for about an hour and a half, and took some photos. To be honest, I didn't want to leave. This place was fun. But, as with all road trips, it's more like a pot luck dinner, where you only have enough time and energy for a taste of each dish.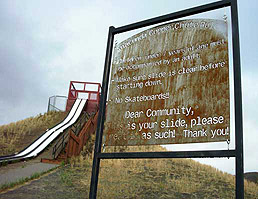 On to Anaconda. We pulled into the small town of Anaconda and I noticed this funny looking hill on the right. Doug was saying the park was on the left, but I took a right and headed for what looked like a huge slide built on a hill. The closer we got, it became clear, yup. A big slide. It was funny, kids were sliding down even though it was wet. I noticed the sign and started laughing, "No skateboards!!" (notice not one, but two exclamation marks!!).

It had just stopped raining, and the park was wet. I was mainly interested in taking some photos, as the park itself while fun, I'm sure, isn't what I take a road trip to skate.

We left and headed for Missoula.

Before heading out on our trip, Doug contacted the city to find out if the skatepark was open. The answer was a resounding no. So, we stopped in to take a look, and snap some photos. It wasn't as deep as Butte, but it did look fun. Features a left hand kidney and a cradle. Again, it wasn't raining, but it appeared that it had been raining not long before we arrived. !!).
We started to get the feeling that we were following a big rain cloud. Next stop Polson, Montana.

It's about a 2 hour drive north from Missoula to Polson, normally. Our trip took 3 hours, however. We encountered some major rough roads due to road construction. Pot holes easily a foot deep or more were forcing us to go about 5 miles an hour. Arriving in Polson, we were both hungry, and noticed that it had just rained, so we figured it might be a good idea to let the park dry first. Doug has this favorite BBQ place called "Papa Don's" which is right on the water. And true to form, that place has some great food, not to mention the great view of the lake. I could have sat there all day just looking at the lake.

On roadtrips, you often don't have time to do things the "normal" way. And such was the case here. Full of food, and we headed to the skatepark. Not what I normally do. Some water residue still left over, we pulled out our squeegees that we had purchased in Missoula. I would have brought mine from home, but I didn't pack them due to our original plan of going to Colorado. We were skating in no time. The helmet is a new and unique feature. Found only in Polson.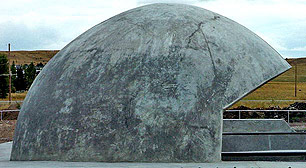 We'd seen the photos on the internet, and talked about it.

Can the lip be ridden or not? I was happy to be able to investigate this question first hand. It seemed to me that it would be nearly physically impossible to ride the lip, but I would love to be proven wrong. The park has a nice street area, and a mini-snake run into two bowls connected by a 7 foot high door.
The door was one feature I was interested in going over. It took me almost 30 minutes to get the guts to go over. Not having much time, I wasn't able to skate the whole place, and put together any elaborate lines, that included the door. I had to just drop in and go over. Near the end of our session, I started to find a speed line for the helmet, and that was fun too.

We left Polson, and headed for Whitefish. And I have to say, this is some of the most beautiful country on the planet. Every bend we'd come around, and it was just another gorgeous scene. I wish I had a better camera to capture it.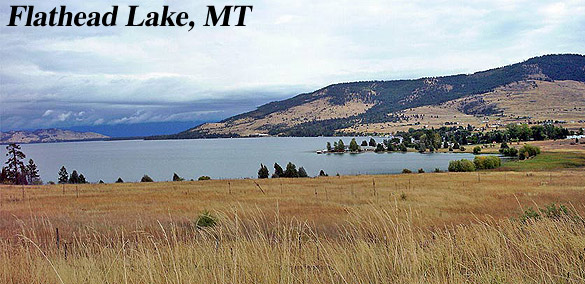 We arrived at the Whitefish skatepark (which is behind the old Armory building)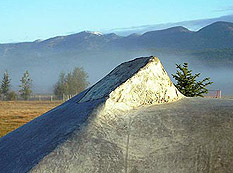 and made the best of the amount of light left that we had. We skated for about an hour and it was getting too dark to see. Whitefish has two bowls, and a street and a flow area. It's bigger than Polson, and Butte at 18,000 sq ft. And has some cool features, like the rocks that are molded into the concrete.
The bowl that I was interested in was the deeper one.
It appears to be around 11 feet deep with a face wall that extends with a good 2.5 feet of vert, and an over-vert pocket that is very similar to the one in Klamath Falls. It's an interesting and fast bowl to skate. This was another one of those bowls that I will be thinking about, until the next time I can visit. While skating I recognized someone from my home town (Renton). I couldn't remember his name, so I came up to him and said, "Renton?".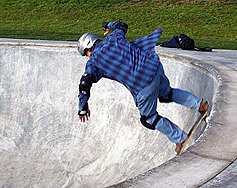 He turned and said, "yeah?" I explained that I remember him saying he was from Montana, and now I guess he's back, and with a Dreamland park to skate. His name is Ben, and now he's settled down back in Montana (Some place called "Hungry Horse").

Doug was stoked to drop into the big bowl. He had been thinking about it for quite a while.
Day 3: Sunday Sept. 17
We woke up early, but it was still dark out by 7:00 AM. So, we stopped by the Kalispell skatepark to take a look.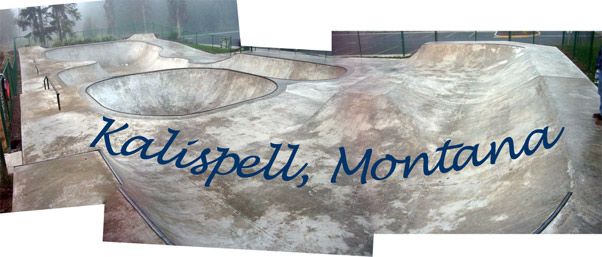 It's similar to the Anaconda skatepark. The fog had rolled in, making things a little damp. Not interested in skating a wet park, and since Whitefish was just a few minutes up the road, we stopped in there and skated Whitefish for an hour or so, took some photos and headed out.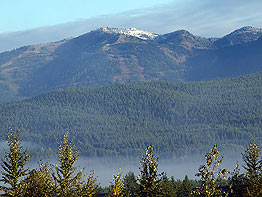 The Big Mountain Ski resort is located just behind the skatepark, and even without snow, it's beautiful.

We had a plane to catch back at Great Falls. So, we drove over HWY 20, which is just south of the Glacier National Park and I can't help to mention that the scenery was breathless (yeah, I know I mentioned it before, but I kept being impressed by it).
3 hours later, we flew out of Great Falls, the same place where we started.

Talk about a whirlwind skatepark tour! Two and half days, and 7 skateparks visited, 4 skated. I was so happy to finally get out to Montana, I have been thinking about it for quite a while. Many thanks to Doug for helping me get out there!